News
Swimarathon 2019 - Records Broken!
The eighth annual Horsham Lions Swimarathon was held on Sunday 17 March 2019 at The Pavilions In The Park, Horsham. Read more...
40 teams of swimmers completed 4320 lengths of the pool. Sponsorship pledges exceeded £12,000. Thank you to everyone who took part or supported the event.
Read more...
---
Christmas Fund Raising Success!
Thank you to everyone who donated to our Christmas Fund Raising campaign. Due to the enormous generosity of the community in Horsham district we have been able to provide parcels of seasonal food along with presents for children, to less fortunate families in the Horsham area.
Read more...
---
Presentation of Hi-Viz Jackets
Horsham Lions in partnership with the Co-op Community Fund provide hundreds of hi-viz jackets for youth groups in the Horsham area.
Read more
---
Lions Commemorate 100 Years
Horsham Lions commemorate 100 years of Lions Clubs International with the opening of The Aston Trelford Hide at Warnham Nature Reserve.
Read more
---
Horsham Lion Takes Help To Sri Lanka
Lion Charmini Anthony delivers a supply of spectacles and sugar monitors Sri Lanka. Read more
---
Are you prepared to give something back to your community?
We Are Looking For New Members
To find our more contact Lion David Trowbridge by phoning
0845 833 7629 (Local call rate number 7p per minute. Calls from mobile telephones could cost considerably more. Please read our Contact page)
or send an email to:- info@horshamlions.freeuk.com
(Please read our privacy policy)
For more information about our Club click the About Us link.
Click here for our Membership Information Leaflet
Upcoming Events
Charity collection at Tesco Broadbridge Heath
Friday 6 September
Past Events
Message In A Bottle
Lions Message In A Bottle is a simple idea enabling people to keep their personal and medical details on a standard form and in a common location - the fridge!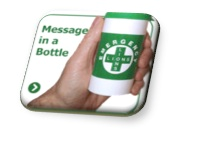 Donate To Lions Clubs
Donate via Virgin Money
Donate via BT