FUND RAISING NEWS UPDATE
We are looking for new members
To find our more contact Lion David Trowbridge by phoning 0845 833 7629 (Local call rate number 7p per minute. Calls from mobile telephones could cost considerably more. Please read our Contact page) or
send an email to info@horshamlions.freeuk.com (Please read our privacy policy)
For more information about our Club click the About Us link.
Charitable Collections - Christmas 2019
Christmas Food Parcels & Toys
Every year at Christmastime Horsham Lions Club assembles and distributes seasonal food parcels and toys to families in the Horsham area who are not able to afford those little extras at Christmas that many of us look forward to.
Cash Collections
Thank you to all who donated to our 2019 Christmas Parcels project.

| | |
| --- | --- |
| Location | Donations Received |
| Sainsbury's -Fri 6 Dec | £511.79 |
| Sainsbury's - Sat 7 Dec | £423.86 |
| Newbridge Nurseries - Fri 13 Dec | £214.87 |
| Newbridge Nurseries - Wed 18 Dec | £177.10 |
| Waitrose & Partners - Thu 19 Dec | £630.94 |
| Waitrose & Partners - Fri 20 Dec | £711.62 |
| Waitrose & Partners - Mon 23 Dec | £700.57 |
| Tesco - Tue 24 Dec | £629.47 |
Thank you to everyone. We were able to spend our full budget of £3000 on seasonal food parcels and toys to families in the Horsham area including a donation of £1000 to Horsham Matters for the Horsham food bank. Surplus funds will be used to benefit those less fortunate in the Horsham community during 2020.
Thank you for your donations
---
Santa Tours 2019 in Southwater & North Horsham
Santa Visits To Children In Southwater And Horsham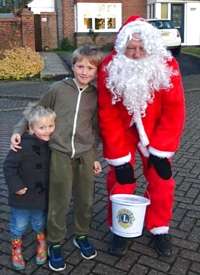 Sunday 8 December 2019 - Southwater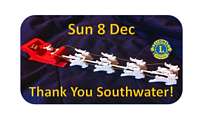 Donations received £627.00
Sunday 15 December 2019 - North Horsham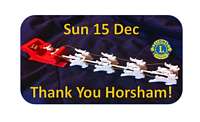 Donations received £589.54
---
Christmas Hamper Raffle 2019
Once again our fantastic Christmas hamper will be raffled in many pubs, clubs, shops in the Horsham area.
For just £1 you can participate.
Profits from the raffle will help fund our Christmas Parcels Project and further support local good causes over the next 12 months.
In 2018 the total raised by the raffle was £958.29
---
Income From Fund Raising Events - How The Funds Are Used
Profits from Horsham Lions fundraising events are, in the main, used to support good causes in the Horsham Area.
---
Regular Supporters - The Lamb Inn
Ben and Chris, owners of The Lamb Inn at Lambs Green near Rusper, and their customers are long standing supporters. We would like to thank them for their continued support. If you have a business in the Horsham area and would like to have a year-round cash collecting box to help our charitable causes, please contact us.
---
New Ideas
We are always looking for for new ways of raising funds for local good causes, national and international charities. If you have good fund raising ideas we would like to hear from you. Please contact us.
---