Need our help? You can make contact by telephone on: 0345 833 7829
Geographic call rate. Calls from mobile telephones could cost considerably more. Please read our Contact page
We are looking for new members
To find our more contact Lion Clare Wilson by phoning 0345 833 7829 Calls from mobile telephones could cost considerably more. Please read our Contact page
or send an email to info@horshamlions.freeuk.com (Please read our privacy policy)
For more information about our Club click the About Us link.
Click here for our Membership Information Leaflet
---
Support for 6th Form Students at Jigsaw Trust
Horsham Lions support Jigsaw School with a grant for the purchase of camera equipment.

Treasurer, David Trowbridge receives a big "Thank-You" from students at the Jigsaw School
---
Cricket Competition 2018
---
Swimarathon 2018 - Presentation To Chestnut Tree House

Horsham Lions seventh sponsored swimarathon took place at
The Pavilions in the Park, Horsham on Sunday 18th March 2018
Presentation To Chestnut Tree House 2018

£9,029.92 raised by Horsham Lions Swimarathon 2018
---
Hi-Viz Jackets for Horsham Area Youth Groups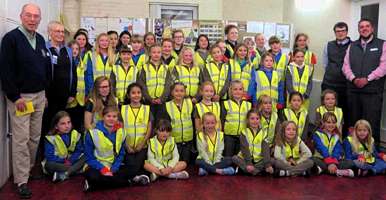 Horsham Lions started a Hi-Viz jackets project started over 2 years ago when the Club discovered, from the Royal Society for the Prevention of Accidents, that in the previous 10 years, more children were injured than any other pedestrians. As a result 15 Primary schools an offer acceepted an offer to provide them with High-Viz jackets 580 jackets were provided. The offer of was then extended to local Youth groups.
In 2016 the Co-op Community Fund scheme invited Horsham Lions to become a participant. Under this scheme, members could choose between three beneficiaries, or, for monies to go into a "joint pot". 1% of profit on sale of co-op branded goods and services. The period covered 6 months, at the end of which Horsham :Lions received over £5,200.
Thanks to the generosity of the Co-op Community Fund additional jackets have been purchased and 348 were presented to to21 Groups of local Rainbow, Brownies and Guides.
The Guide District Commissioner, Helen Cunnington, thanked the Lions for their gift, which would be so important in providing safety for members of the Guide groups.
A further 836 jackets are to be presented to 28 Beaver and Scout Groups shortly and a total of 1,750 jackets have been provided for local Youth groups.
---
Lions Commemorate 100 Years
Melvin Jones, an insurance broker in Chicago belonged to a business club where city business men met to dine, discuss and promote their businesses. This, Melvin considered to be rather narrow and much more could be achieved by forming an association with other similar clubs across America to not just serve their business interests, but also serve their communities. Accordingly he contacted similar clubs and on June 7th 1917, representatives from 15 clubs met in Chicago, agreed with him and founded Lions Clubs International.

The movement grew slowly, confining itself to the USA, Canada, China, Mexico, South America and Asia. After world war II expanded rapidly to Europe. During the war, Canadian Lions provided valuable support for British children orphaned by the war, the then Queen Elizabeth sent her equerry Col. Edward Wyndham (later Lord Leconfield, from Petworth) to convey her thanks. With this support the first Lions Club in the UK and Ireland was Chartered in 1950. Growth throughout the world resulted in Lions Clubs International becoming the largest service organisation in the world, currently with 46,000 clubs and more than 1.4 million members in over 200 countries.

The world is a very different place from when Lions Clubs International; first served local communities. Yet the desire the of Lions members to serve others and help meet the needs of society are much the same.

In 2016 the clubs in Europe raised in excess of £88,000,000 which combined with personal service was able to make a phenomenal difference to specific challenges facing humanity. The Lions framework comprises, national and international projects alongside more focused and targeted efforts within local communities. Of monies raised by Horsham Lions Club, some 80% are used for the benefit of the local community.

To commemorate the 100th year of Lions Clubs International, Horsham Lions Club have just embarked on its 55th year of service combined with Horsham District Council to provide a hide at the Warnham Sanctuary.

Immediate Past President Lion Tom Osborne said -

"Horsham Lions Club have just embarked on its 55th year of service to the Horsham Community and marking the Centennial of Lions Clubs International by having a project" that would help and support our local community.

Whilst a good deal of work has gone into this Centennial Project over the last year, planning for it started some 3 years ago in 2015, the most difficult issue Horsham Lions had to deal with was what "The Centennial Project" should be. Many good suggestions were put forward, one of which was from one of the newest member of Horsham Lions Club, who was also a hard working volunteer for The Warnham Nature Reserve. That member was Lion Aston Trelford. Lion Aston knew that the Nature Reserve had plans to increase the number of hides from which the wild life could be observed as well as renovating and extending the walkways, but they lacked the finance to do this. Lion Aston acted as the link between Horsham Lions Club and the Nature Reserve's Management Team, which included the Warden Jacob. By the time Aston and Jenny relocated to Suffolk, in midsummer of 2016, Horsham Lions Club had agreed in principle to donate funds in order to pay for the cost of the new hide. The reason why this decision was made was because members learnt that some 20,000 people visit the Warnham Nature Reserve each year, including many school children from local schools and youth based organisations to learn about wild life and ecology issues. Horsham Lions Club Members felt that this proposal ticked all the boxes for their "Centennial Project.

Sadly before the construction of the hide could start the news of Aston Trelford's passing, after a short illness came through. At this time club members were trying to decide on the name for the new hide, up to this point all the hides had been named after birds, A suggestion was put forward that the hide should be named after Aston Trelford in the light of his long association with Warnham Nature Reserve."

He then introduced the Chairman of The Friends of Warnham Nature Reserve. He first thanked The Horsham District Council and Horsham Lions for the additional opportunity offered to visitors to view a new vista, The naming of the hide to the memory of Aston Trelford was very fitting, he had been one of the original members of the Friends and largely instrumental in obtaining lottery money for the development of the Reserve.

Jenny Boyce who had been Aston's partner was invited to cut the ribbon to the hide and expressed her pleasure indoing so and the recognition given to Aston.

The assembled company, accompanied by the Horsham MP, Jeremy Quin, then entered and inspected the Hide.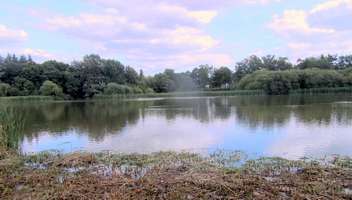 Swimarathon 2017 - Presentation to Chestnut Tree House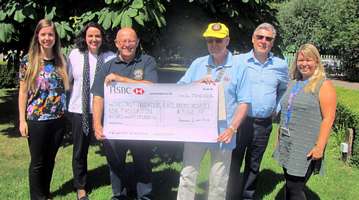 Tom Osborne, Lion President, Horsham Lions Club was delighted to present a cheque to Jayne Todd, Community Fundraiser at the Chestnut Tree House Children's Hospice on 26 June 2017 for £ 9162.17. This was the amount raised through sponsorship by teams entering the Horsham Lions 6th Swimarathon on 12th March 2017 and struck a record over previous years. Chestnut Tree House is a children's charity providing hospice care services and community support for children and young people with progressive life-shortening conditions throughout East and West Sussex, Brighton and Hove and South East Hampshire.

There are potentially 1,000 families with life-limited children in Sussex. Chestnut Tree House offers support for the whole family including psychological and bereavement support, end of life and short break care and sibling support.
It currently costs well over £3.5m each year to provide all the care services provided by Chestnut Tree House. Families are never charged for their care and less than 7p in every pound is funded by the government, so they rely heavily on the generosity, help and support of the people of Sussex.

Assurity Consulting, an independent health safety and environmental consultancy based in Horsham, sponsored the Swimarathon and the Marketing Manager Suzanne Clarkson-Lewis, and her team gave advice and support on a variety of matters throughout the preparations. The organisation's financial contribution was a big help to the Horsham Lions in organising the event this year. Also the team that was put together by Assurity Consulting, "The Doggy Paddlers", beat the record for the number of lengths swum in the 55 minute session, and their supporters gave generous donations.

In total there were 30 teams competing and together with their sponsor's generous donations enabled the process of replacing high cost specialist beds at the hospice to start. The teams also supported other local charities and local school projects which fulfilled Horsham Lions' objective for participating teams to help the Lions, help the Horsham community.

Horsham Lion Takes Help To Sri Lanka
On a recent visit to Sri Lanka, Lion Charmini Anthony, who lives in Southwater, took a supply of spectacles and sugar monitors with her as a gift from Horsham Lions. She first visited a a small village called Dhompay. Here the people are very poor and receiving spectacles and monitors will be a great help to them. Giving thanks for the gifts, the villagers went home very happy.
Suddenly they were able to read. Some had had cataracts. Fortunately with the aid of used spectacle collections, which are co-ordinated by Chichester Lions Club, additional revenue is raised from the sale of gold content in certain spectacle frames. This money is used to promote Lions Sight activities and this has paid for Doctors to visit and carry out cataract operations.
Next, Charmini visited Negombo Lions and donated sugar monitors, hearing aids and spectacles to them, followed by a visit to Minuwangoda. Lions International President, Dr. Jjittsuhiro Yamada was visiting Sri Lanka at the same time and hearing of the involvement of Horsham Lions helping the poor in Sri Lanka, asked to meet Lion Charmini who was pleased to present him with a Horsham Lions Friendship banner at a reception.
Horsham Lions Help Worldwide Fight Against Measles/Rubella
Lions Clubs International, through its International Foundation came to an understanding with the Bill and Melinda Gates Foundation, The UK Government (UKAid) through the Department for International Development (DFID) and the GAVI Alliance concerning the financial support being given to GAVI to help with the elimination of Measles/Rubella.

Lions pledged to raise $30m by 30 June 2017, which would be presented to GAVI at the Lions International Convention in Chicago on the occasion of the 100thAnniversary of the formation of Lions Clubs International. The Gates Foundation and UKAid have also pledged they would each contribute a further US$15M each, giving another US$30M to make a grand total of US$60 to GAVI.

Lions Clubs and GAVI are working with ministries of health in developing countries to ensure children are vaccinated against measles and rubella. Lionsare also playing a key role in social mobilization efforts by working with local leaders, coordinating community-level publicity and serving as volunteers at vaccination centres. Measles is a highly contagious virus spread by coughing and sneezing and kills about 160,000 people annually, mostly children under the age of five. GAVI provides the measles vaccine in one shot with the vaccine against rubella.

Horsham Lions recently donated £500 to the cause, for which Lions in the United Kingdom raised £37,000 in 2015. Together, Lions have raised US$16 million toward the $30 million commitment.

If you would like to consider making a donation to this significant initiative for health around the world, to help eradicate this killer disease in the world's poorest countries, donations may be paid to Horsham Lions Club marked "Measles" at 66, Gateford Drive, Horsham. RG12 4AN

Horsham Lions are involved in a wide range of activities and new members are welcome. To find our more phone 0845 833 7629 or email to info@horshamlions.freeuk.com

Co-op Community Fund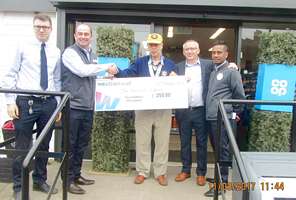 The Co-op Community Fund is currently supporting Horsham Lions charitable funds through the following Co-op businesses. Please support them. Thank you.
Co-op food store: North Parade, Horsham, RH12 2DH
Co-op food store: Fitzalan Road, Roffey, Horsham, RH13 6AA
Co-op Community Fund - Giving back to local communities
Every time our members buy selected Co-op branded products and services, 1% of their spend goes to a local cause. The more members spend, the more money goes to causes in their area. Money from sales of our reusable carrier bags, and the 5 pence legal charge on carrier bags (where applicable) will also be used to kick start the funding for each cause. So thatíll mean even more for your community.
The Springboard Project - Horsham
New equipment sponsored by Horsham Lions Club has been delivered and installed at
The Springboard Project, Hurst Road, Horsham
Message In A Bottle
Lions Clubs Message In A Bottle scheme was recently promoted in Swan Walk Shopping Centre, Horsham
| | |
| --- | --- |
| | |

Lions Message in a Bottle is a simple, but effective, way to keep essential personal and medical details where they can be found in an emergency – the fridge.

More than 5 million FREE Message in a Bottle kits have been distributed by Lions Clubs British Isles & Ireland in recent years to people with conditions such as diabetes, allergies, disabilities and life-threatening illnesses. The bottles are supplied FREE of charge thanks to generous donations from the public and businesses.

The Lions Message In a Bottle initiative is praised by hundreds of emergency services personnel. Senior North West Ambulance Service paramedic Steve Nicolls said: "It's of invaluable assistance to us when we have to attend an incident at someone's home." Talking to Nic Knowles on the BBC's Emergency Rescue programme, Andy Capes, South West Ambulance Service said he can rely on the Lions Message in a Bottle: "I use it on average two or three times a week; it saves time and lives."

For your FREE bottle call us on 0845 833 7629
---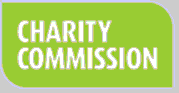 Check our records on the Charity Commission website
---
Support For Local Families & Organisations
In close co-operation with West Sussex County Council we financially assist those who are experiencing domestic hardship.
---
Support For Local Youth
We support schools and youth organisations in the Horsham area. We encourage good citizenship with awards and donations for service minded young people.
---
Medic Alert
We promote and support the Medic Alert programme throughout the Horsham area.
---
Lions International Blood Research Appeal
Further information about this project can be found at the LIBRA website
---